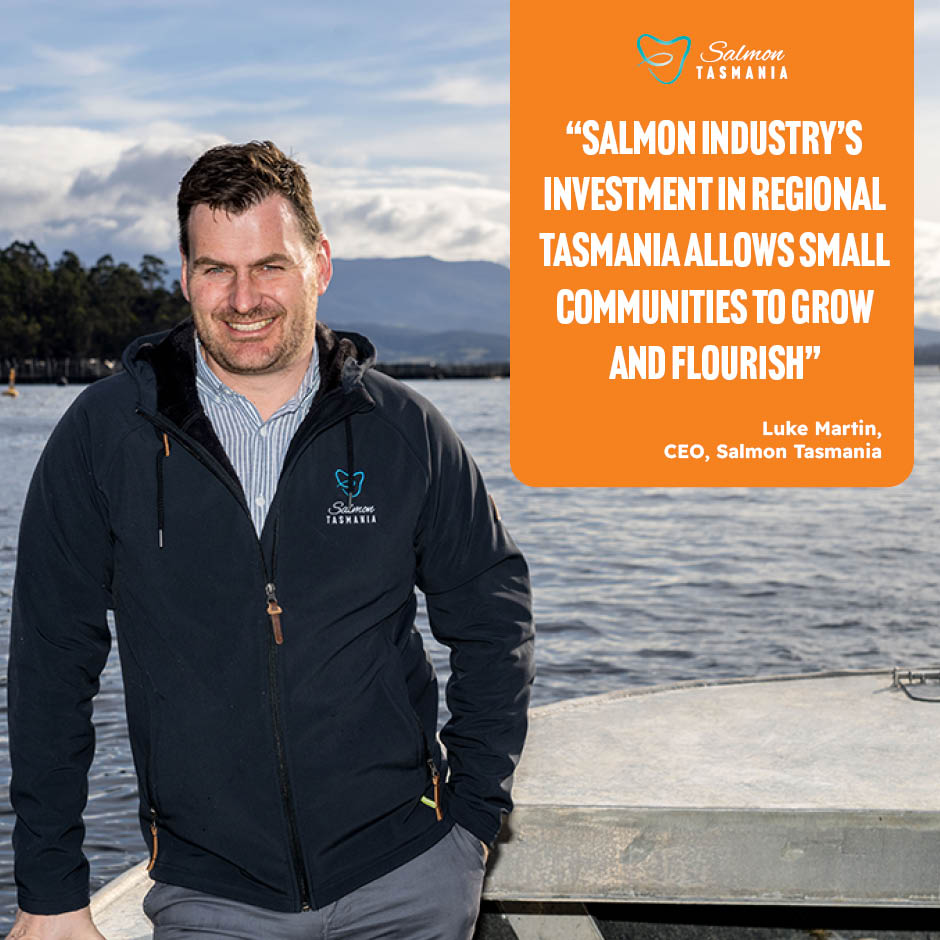 Some have asked why I've made the move to the Tasmanian salmon industry.
For the past 12 years, I've had the privilege to work for an industry in tourism that is the economic lifeblood of so many regional Tasmanian communities. Now, I have the opportunity to work with another.
What I love most about Tasmania is the unique character of our many regional communities and small towns across the island.
These communities really are the lifeblood of Tasmania with booming tourism businesses, a thriving and diverse agriculture sector, dedicated fishing towns, and of course aquaculture.
I love the fact you can drive a few minutes from one town to the next, down the Huon Valley, or along the East Coast, or from Queeny to Strahan on the West Coast, and find a completely different community with different economic activities that build unique relationships, enterprises and livelihoods.
Tasmanian people are fiercely proud of their communities and the industries that keep them ticking along. They value and understand the importance of these industries because these are towns full of people who still know what it means to look after one another, and still want the best for their friends and families.
Sustaining the economic prosperity of regional communities is about securing the Tasmanian way of life. It should give every person connected with the salmon industry great pride to see towns bustling with local salmon workers who are going about their lives, getting their lunch from the local take away, having a beer at the local pub after work or getting supplies from the local supermarket whilst proudly dressed in their company uniform.
Recently, Salmon Tasmania released research by Deloitte that found the Tasmanian salmon industry is valued at $1.3 billion per annum and directly contributes $770 million to the Tasmanian economy each year whilst supporting 5,100 full time equivalent jobs.
This is especially present in places like the Huon Valley where one in four working people are employed because of the salmon industry, and in local government areas like Latrobe, Tasman, and the West Coast where 17% of the workforce are in jobs related to the salmon industry.
Nine out of ten of the jobs created by the salmon industry are in regional Tasmania, and pride for these communities comes in part from being able to obtain good, well-paid employment that allows them to stay in the place they call home.
Our salmon industry is Tasmania's largest primary producer, it makes up 86% of the state's total seafood production and proudly holds the title of Australia's most valuable seafood sector. All this from our reginal towns and communities such as Strahan, Dover, Margate, and Triabunna.
What makes these statistics even more staggering is that, as the state's largest primary producer, being approximately double the size of the horticulture sector and 38% larger than the red meat processing industry, aquaculture has a very small footprint. In fact, the total lease area of finfish farms in Tasmania is 4,002 hectares, compare that to plantation forestry at 309,900 hectares and agriculture at 1,890,000 hectares.
Tasmania's salmon industry is dedicated to locking-in Australia's food security, producing a high quality, highly nutritious, sustainable protein without putting pressure on depleting wild fish stocks or natural resources.
In a post carbon world, salmon farming has one of the lowest carbon footprints of any livestock industry. In terms of carbon emissions, ocean-based salmon farms emit less than half the emissions of land-based protein.
Whilst these statistics and the industry's efficiency is impressive, the reality on the ground is that our industry enables young people to start out their careers in our small regional towns. This was once only a dream for these communities and past generations watched on as their children were forced to move away from home to secure a good start in life.
Now, in part because of the salmon industry, we are seeing young divers, engineers, environmental scientists, and farm workers settling in these regional towns with the confidence that only high-quality, well-paid employment can bring, because salmon industry employment opportunities pay up to 73.9% more than the average jobs in these regions.
With this comes opportunity as it sets up our young people so they can invest in the region, buy a house, start a family, and contribute to the social and economic wellbeing of their communities.
Investment is the key to developing regional communities and our industry invests around $8.5 million, or 55,000 hours into staff training per year. We have invested $681 million in research and development in the past ten years that benefited the broader scientific community and we invest locally, putting around $1.6 million into grants, donations, and community sponsorship every year.
Our innovative salmon industry is an integral part of these communities and is embedded into our regions, our people, our economy, and our future.
The benefit of this contribution is the lifeblood that allows our regions to shine, and I encourage you to check out the report which is available at salmontasmania.au/vital.
Luke Martin is the CEO of Salmon Tasmania